The
C² Factor
for Leadership
Whether you want to elevate the performance of your team, enhance your performance in a current role, or excel in a new leadership role, Joanne will help you experience transformative change.
What you'll learn...
Inner Calm | Clarity of Thought | Confidence in Action
These themes are a necessity if we are to make sense of the surrounding chaos, be sure-footed amongst ambiguity and at ease in the pressure cooker that is leadership.
Leading today requires more than a high IQ and EQ. It requires the C2 Factor for Leadership, curiosity and courage, but not simply those traits in raw form.
The C2 Factor for Leadership focuses on the alchemy of the two – the synergistic application of profound curiosity and relentless courage – and it's resulting power to help us thrive as leaders, team members, partners and individuals.
This book demonstrates how showing up with your C² Factor fully engaged leads to better business, better teams, and better lives.
They've read it and... THIS IS WHAT THEY SAY
'' The C² Factor is indispensable.''
Dr. Joanne Irving is an advisor to Washington, DC's power elite. For years, she's worked
closely with heads of government, the military, and corporations on how to navigate challenges
and lead with wisdom and grace. Few people understand, then, what it takes to lead in the real
world better than Dr. Irving. If you and your organization are trying to accomplish something
of magnitude, her new book The C² Factor is indispensable.''
MARK LEVY
Author of Accidental Genius, Levy Innovation: Differentiation
for Corporations, Brands, and Thought Leaders
Curiosity and courage are unstoppable forces. In this
insightful book, Joanne Irving deftly shows how to enlist
them to become a leader fit for the future.
DANIEL H. PINK
#1 New York Times bestselling author of WHEN and DRIVE
''This inspiring book illuminates how curiosity and courage can be leveraged by champion leaders across all industries to achieve new levels of creativity and collaboration within their organization, exponentially raising productivity and effective decision-making.''
JENNIFER L. FARRIS
COO, Zuckerman Mind Brain Behavior Institute, Columbia University
'' Packed with nuggets of wisdom from the experiences of champion-level leaders
across industries, Dr. Irving demonstrates how champion leaders engage their curiosity
and courage to learn from the past, enhance the present, and anticipate the future.''
MARSHALL GOLDSMITH
Thinkers 50 #1 Executive Coach, New York Times #1 bestselling author
of Triggers, Mojo, and What Got You Here Won't Get You There
THE AUTHOR
Founder of Insight to Action Advisory LLC- JOANNE IRVING, Ph.D.
A Thought Leader Passionate About Helping Executives.Dr. Joanne Irving is the founder of Insight to Action Advisory LLC, a coaching and consulting firm for senior executives at mid- and large-size companies. She helps senior executives improve business outcomes and the quality of life for themselves and those around them — personally and professionally.Joanne has been a psychologist for three decades in the Washington D.C. area where she has worked with influential leaders from a wide variety of organizations, including the World Bank, the International Monetary Fund, and the White House.Her corporate clients have included executives from AARP, Atlantic Health Systems, Johnson & Johnson, Microsoft, Pfizer, and Sutter Health.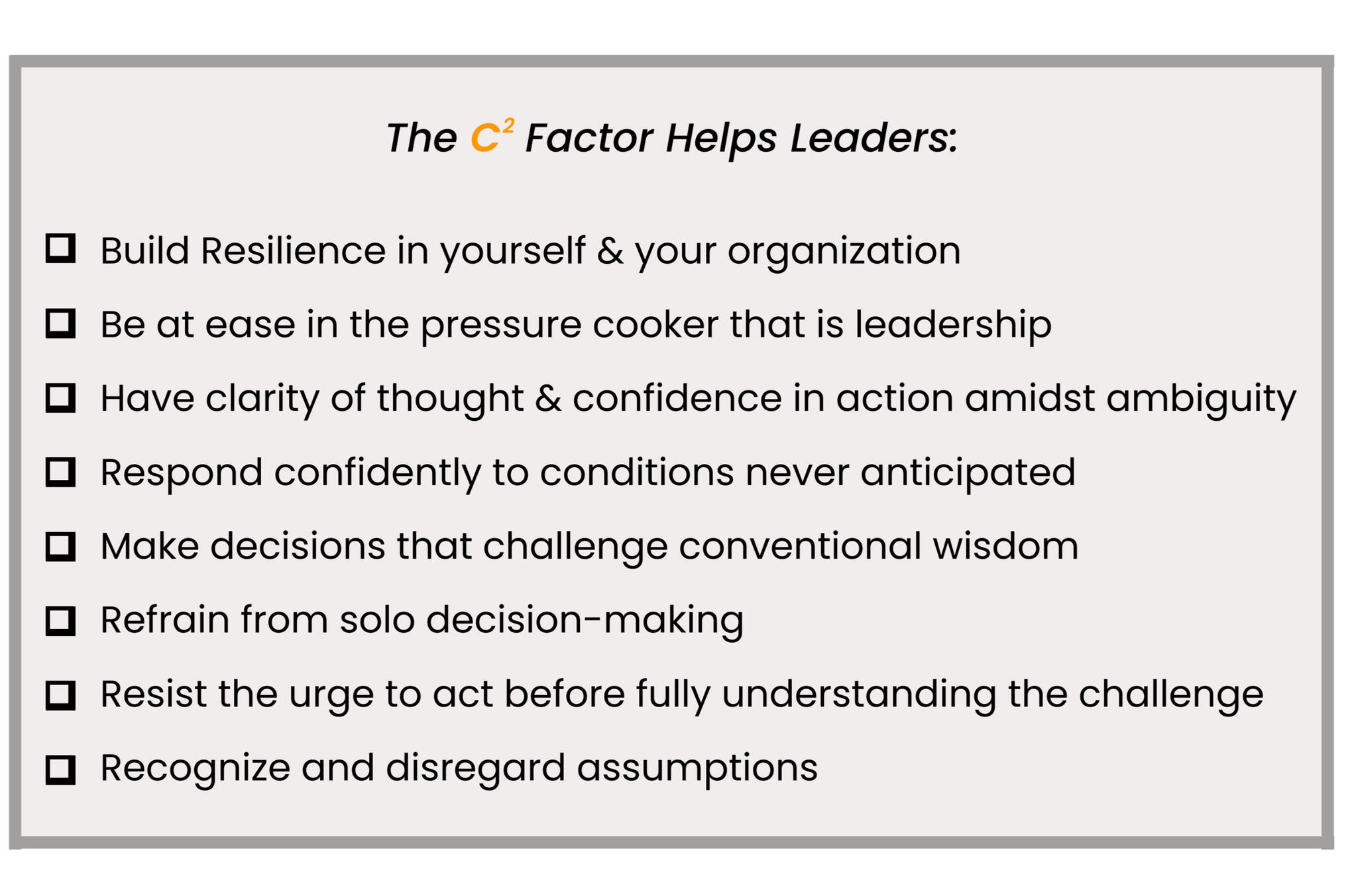 HERE'S WHAT YOU'LL READ INSIDE...
CHAPTERS
Chapter 1: The Myths You May Believe about Curiosity and Courage that can Lead You Astray
This is significant because when we recognize our character strengths, they become more available for use. Being aware that we possess these traits helps us to access them when needed and to further develop them.
Chapter 2: The Symbiotic and Synergistic Nature of Curiosity and Courage
This chapter asserts that when leaders have profound curiosity and relentless courage, individual and organizational performance are dramatically improved. Curiosity and courage are symbiotic and naturally synergistic; they support and potentiate each other. This is the C² Factor.
Chapter 3: The C² Factor Begins at Home: Start with You
When facing enormous pressure to perform despite high levels of uncertainty, finding time for oneself can appear to be a luxury to many executives. This chapter explores how mindfulness is the ultimate form of curiosity and how to use courage to confront hidden biases and leadership hubris.
Chapter 4: People Who Need People: Relationship Enhancement with the C² Factor
This chapter explores how curiosity and courage, the C² Factor, is a basic building block in forming and maintaining relationships. With courage, relationships facilitate personal growth. And when the going gets tough, when there is conflict between partners, team members, stakeholders, or friends, having the courage to be curious about the other's experience is the royal road to solutions that are lasting.
Chapter 5: High Performance Teams and Creative Problem Solving with the C² Factor
The challenges leaders face are complex and have an infinite number of paths to success. Any choice runs the risk of being inadequately executed because it is not truly vetted and endorsed by all the relevant people. No matter how superb a leader's solution might be it is just one option. When the leader generates solutions, the opportunity to elevate team performance is missed and leaders are exhausted and stressed by needing to be constantly brilliant.
Chapter 6: Champion Leadership with the C2 Factor
While both curiosity and courage are staple traits found on most any list of desired leadership qualities, it is the alchemy of the two that champion leaders embrace. The C² Factor is not the only characteristic of champion leadership, but it is essential for any leader who wants his organization to nimbly navigate the lightening-speed change of today and be prepared for an assuredly uncertain future.
Chapter 7: Ensuring Prosperity with a C² Factor Culture
To make meaningful impact, the C² Factor must expand beyond any one leader and be woven into the cultural fabric of the organization. Champion leaders recognize that curiosity is ignited and sustained by an organizational culture that values diversity of thought, supports taking reasonable risks, does not punish mistakes, and invites courageousness. A culture that promotes the C² Factor begins at the top as senior leaders model the desired behavior and values.
Chapter 8: The Legacy of the C2 Factor
When we approach every situation with our C² Factor readily accessible, life is more interesting, satisfying, and we are more effective – as parents, partners, leaders, and citizens. If we show up to every minute of our lives with the mindset of C², the world becomes a place with imminently more potential for change.
---
© 2022 Joanne Irving. All Rights Reserved.